Hawks to scare pigeons at Swindon library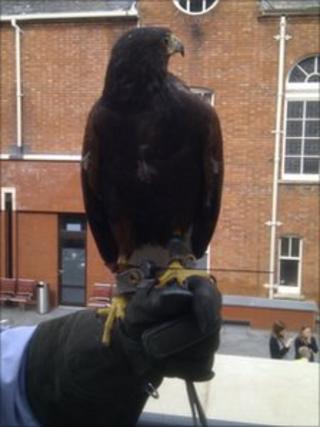 A pair of hawks has been enlisted to scare off pigeons at Swindon's Central Library.
The birds of prey have been brought in after library users complained of having to avoid bird droppings in the courtyard.
The council is spending £4,000 on cleaning, blocking off landing spots and the hawks.
Alison Jordan, the head of Swindon's library service, said there had been "mess everywhere".
"On the first floor balcony we weren't able to use that space because there was so much mess - masses of it," she said.
"Under the balcony there were 25 nests."
The borough council said health risks were also a concern.
A spokesman from the authority said the hawks would be brought in a for a couple of hours every few days for about four months.
"After a while the pigeons realise it's not safe to be there," he said.
Justin Holloway, from Prokill, which is providing the hawks, said: "The alternatives are perhaps a controlled culling programme which is not really what the council wants to achieve.
"They're looking for an environmentally-friendly solution and that's what the whole control programme will deliver.
"But it's not a quick fix. It's paying attention to the problem over a period of time."