Steam train ash helps work on Kennet and Avon Canal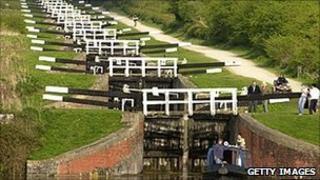 The canal and railway industries have joined forces in Wiltshire to solve a problem on the county's waterways.
Lock keepers on the Caen Hill Lock Flight on the Kennet and Avon Canal in Devizes are using coal ash donated by the Avon Valley Railway in Bitton, near Bristol.
Ash helps maintain water levels during maintenance works throughout the year.
British Waterways said it had saved them "thousands of pounds".
"Ashing the gates" is a traditional method which was used in the canal's industrial heyday when water on the flight was constantly in short supply.
The technique involves pouring the ash into the canal just above a lock.
Watertight seal
The flow of water then sucks the ash into the small gaps in the gates allowing them to form a totally watertight seal.
British Waterways' lock keeper, Trevor Skoyles, said: "It's great to see traditional techniques, which celebrate the heritage and history of our waterways brought back to life with the support of local organisations and enthusiasts."
"It's great to be able to make use of the coal ash generated from our locomotives," added Avon Valley Railway Development manager, David Cole.
"When British Waterways approached us we were delighted that it could be put to use on the canals."