Salisbury fire buildings 'restored by May 2012'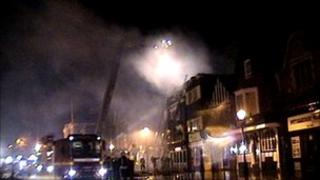 Buildings damaged by a fire in the centre of Salisbury are not expected to be restored until May 2012.
A blaze swept through the historic Market Inn pub and neighbouring Charter Restaurant on Butcher Row on 31 March.
The cause of the fire has so far not been identified and investigators said at the time the extent of the damage meant the cause may never be known.
The firm in charge of repairs said the work should finish before the Queen's Diamond Jubilee celebrations in June.
Brad Nixon, from Bliss Construction, said: "We are water proofing it and putting a tin roof on top of it. It's all systems go once the roof is on.
"The top floor is completely gone, the middle floor has got a lot of damage where the firefighters put all the water through.
"The cellar is like a swimming pool - knock it all down and start again basically."