Hindu play put on by cast with learning difficulties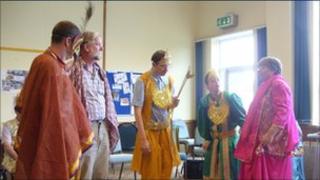 A play with a difference is being performed at the 2011 Swindon Mela.
At the Indian cultural festival, which takes place in the Town Gardens on Saturday, the Hindu Ramayana play will be performed by people with learning difficulties.
Members from the Swindon Interactive Arts Service have been practising for months to stage the performance.
Organiser Bruce Clarke said: "It's a first time for the Mela and I think it will be really impressive."
The Swindon Interactive Arts Service is a voluntary organisation set up to help adults with learning difficulties through artistic activities.
'Really impressed'
The epic Ramayana is one of the most famous plays in the Hindu faith and in Indian culture.
It tells the story of Rama, prince of Ayodhya, who won the hand of the beautiful princess Sita, but was exiled with her and his brother Laksmana by the plotting of his evil stepmother.
Mr Clarke said: "It is a complicated story and there were several moments when we thought we should keep it simpler and shorter, but as we've done it with them they've just got involved and taken it away.
"Despite the complexity of the story, I'm really impressed with the way the students have taken on board the roles and really got involved with it all."
The 30-minute play will be performed at the Swindon Mela on Saturday 30 July at 13:00 BST in the Discovery Zone area.