Funeral for Goan man stabbed in Swindon takes place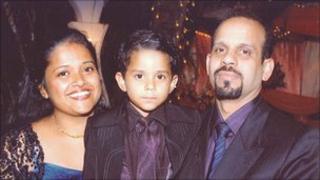 The funeral of a Goan man who was stabbed to death in Swindon in May has taken place.
José Maria Raimundo Pereira, 40, was stabbed in Manchester Road in the town. A 23-year-old man has been charged with his murder.
Mr Pereira, known to friends and family as Raymond, was a well-respected figure in the Goan community in Swindon.
His widow, Susan Pereira, said she had lost the most important person in her life.
Mr Pereira's funeral was held at Holy Rood Church in Groundwell Road on Friday.
'Big loss'
On the day he died, Mrs Pereira said her five-year-old son Samuel had pleaded with her husband to stay at home.
"Before Raymond left for work that day he [Samuel] told Dada 'don't go to work today, stay and hold me tight and sleep'," she said.
"And Raymond said 'tomorrow, Saturday, I'll be at home so I'll hold you tight and sleep' and it was the last time he saw his dad."
Santana Souza, from the Swindon Goan Association, said the death had brought the community together.
"Everybody's thinking how we can live a peaceful life," he said.
"Raymond is dead, it's a big loss to his wife and family but his death has brought us together."
Edino Carvalho, from Plymouth Street, Swindon, has been charged with murder and remanded in custody to appear at Bristol Crown Court in August.
A 22-year-old man who was also arrested has been bailed pending further inquiries.