Cliff Richard memorabilia found at Swindon furniture store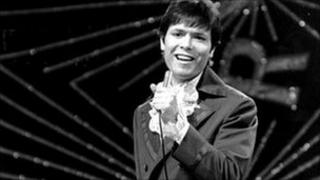 Cliff Richard memorabilia dating back to the 1960s has been discovered at a furniture recycling store in Swindon.
The carrier bag of calendars, world tour books and records was donated to the charity Top Drawer, last week.
Sir Cliff said: "I guess this must happen - people must just get fed up with me".
John Woodcock, from Top Drawer, said the "little treasure chest" of memorabilia had now been bought by a fan from Melksham.
He said the charity had been out collecting furniture when a woman handed them a carrier bag.
"Inside there were calendars still in their cling film, old vinyl records, singles, audio cassettes together with books on world tours," he said.
"It was a whole little treasure chest of Cliff Richard music and memorabilia."
Sir Cliff said he thought it was an "interesting story".
'Throwing a pose'
"I think people must just get fed up with me and go for somebody else and dump their bag of goodies on to whoever wants them," he said.
"But what a nice idea about donating to charity - I'm thrilled about that."
One of the more valuable items was a live album recorded by Sir Cliff in Japan in 1967.
"I remember that album. That's the one with me standing on some steps throwing a pose," he said.
"The funny thing in those days is, of course, we were recording live on stage with no real technical help so if you went wrong it just stayed wrong."
Bruce Petty made a donation of £100 to the furniture recycling store and now owns the collection.
He said it was an investment but that he loves Sir Cliff's records and will definitely be listening to them
"It's going to take a long time to go through them all," he said.