Salisbury man to be first to fly tourists into space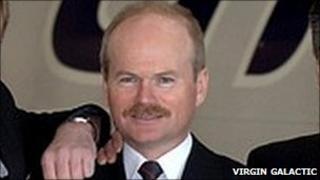 A Wiltshire man is set to become the first pilot to fly tourists into space.
David Mackay, 53, from Salisbury, is the chief pilot for Virgin Galactic.
The company, which is part of Richard Branson's Virgin Group, is aiming to run the first commercial "sub-orbital space flights", which it is hoped will begin within two years.
Mr Mackay, who spent 16 years with the RAF before joining Virgin Atlantic in 1995, said he had held a lifelong ambition to become an astronaut.
"When I was 12, I saw the Apollo moon landings and I thought that was really fantastic and exciting and thought that's what I want to do," he said.
"I found out that those astronauts were ex-test pilots, so I rather ambitiously decided that I would join the RAF, become a test pilot, then become an astronaut."
'Mothership' flights
Later, while working as a captain with Virgin Atlantic, Mr Mackay was one of four pilots selected to become Virgin Galactic test pilots.
He went on to work with the development team at Virgin's Spaceport out in the Mojave Desert in California, where he made test flights in Virgin's WhiteKnightTwo "mothership".
WhiteKnightTwo is a jet-powered cargo aircraft which will be used to launch the SpaceShipTwo spacecraft carrying commercial passengers.
Mr Mackay said his experience made him the obvious choice to be the first pilot to take tourists into space.
"I've been involved with it for a long time," he said. "There's quite a bit of test flying to be done yet.
"So by the time it comes to the first commercial flight I will be as experienced as anybody on the project, so it makes sense for the most experienced people to be on that first flight."
It will take about an hour for the mothership to reach an altitude of 50,000ft [15,000m] before the spacecraft it is carrying is launched.
The spaceship will then fire its rocket motor and accelerate to 2,500mph [4,000km/h] in less than a minute as it leaves the atmosphere.
Describing what the passengers will experience, Mr Mackay said: "It will be close to 4g acceleration which is a huge push in the back.
"So it will be a very exciting rocket ride, it will last about a minute and they will be pinned back into their seats.
"There will be a bit of noise and vibration so they'll definitely know they are on their way into space."
Once the ship is in space and up to 360,000ft [110,000m] above the planet, passengers will be allowed to unstrap their seatbelts and experience weightlessness and see the Earth from above before the craft makes its return.
Mr Mackay described the sensation of weightlessness as a "fantastic experience".
The flight duration from lift-off to touchdown will be about three-and-a-half hours.
Following further testing, Virgin hopes to begin commercial space flights within two years.
Even at a cost of £125,000 a ticket, more than 400 people have already booked their seats.
You can hear more about David Mackay's story on BBC Wiltshire and BBC Swindon on Monday 1 August from 06:30 BST.