New CCTV pictures of missing man in Wiltshire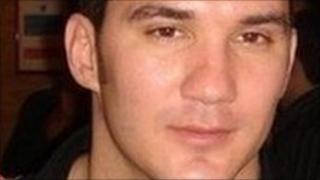 Dozens of CCTV images have been released in an attempt to solve the disappearance of a man police fear has been murdered.
Donavan Van Lill, 29, a fitness instructor from Chippenham, went missing in March last year.
The 70 stills were taken from a pub's camera on the town's Pewsham estate.
Mr Van Lill's friend and ex-marine, Martin Sugden, 42, was tried for murder but was cleared of all charges at Bristol Crown Court in April.
Mr Sugden, of Clanville Bar, Stanton St Quintin, who worked as a swimming instructor at the Olympiad sports centre in Chippenham, had been arrested after the South African's disappearance.
He had always denied any part in Mr Van Lill's death.
A Wiltshire Police spokesman said the stills had been taken from a security camera near the Old Lane public house.
"The pictures show people passing by or driving cars and will be posted on the force website later.
"We hope people will look at them and if they recognise themselves come forward so we can eliminate them from our inquiries," he added.
The charity Crimestoppers has also announced it is to offer a £5,000 reward for information leading to a conviction.
Despite extensive police searches, Mr Van Lill's body has never been found.
Appeals on Crimewatch and an internet campaign have all failed to turn up any trace of the missing man.