Westbury refuse plant: Work begins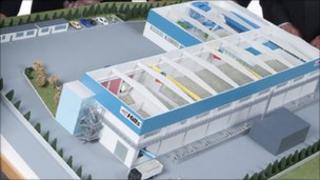 Construction work has begun on the first refuse plant in Wiltshire to give household waste a second chance.
The mechanical biological treatment (MBT) facility is designed to sort through "black bin-bag" refuse and find what can be recycled or recovered.
The £20m plant being built at Northacre in Westbury will treat up to 60,000 tonnes of household waste a year.
Hills Waste Solutions said it would reduce the proportion of waste going to landfill to less than 20%.
The MBT plant, being built by Hills, is expected to produce around 28,200 tonnes of refuse-derived fuel each year and recover 1,800 tonnes of recyclable metals.
The proportion of the county's refuse being diverted away from landfill will increase from about 63% to more than 80%.
Alan Pardoe, Hills group chairman, said he was "delighted that construction is starting on the Hills' Northacre facility".
He said: "This is a significant milestone in both the company's development and the way Wiltshire handles its household waste."
The plant is expected to be operational towards the end of summer 2013.