'Good response' to CCTV images of Donavan Van Lill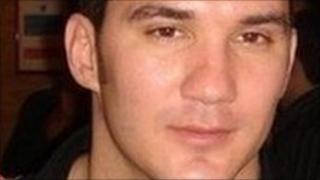 Police say they are "very pleased" with the response to the re-launch of their investigation into the suspected murder of a Wiltshire man.
Donavan Van Lill, 29, a fitness instructor from Chippenham, went missing from his home in March 2010.
This week, 70 CCTV clips taken from a pub's camera on the Pewsham Estate where he lived, were released.
Wiltshire police said they had already received information "which wasn't in the original investigation".
The case is being re-examined after Mr Van Lill's friend Martin Sugden, 42, a former marine, was cleared of murder in April.
Det Insp Don Stirton said: "We've had over a dozen phone calls into the incident room and a similar number into our 0845 number - which has led to a number of those vehicles and images of people being identified and eliminated from the inquiry.
"We're confident that at least 10-15% of the 70 so far have been removed and we've also had some new lines of inquiry identified from those calls."
The charity Crimestoppers has also announced it is to offer a £5,000 reward for information leading to a conviction.
Despite extensive police searches, Mr Van Lill's body has never been found.
Appeals on Crimewatch and an internet campaign have failed to turn up any trace of him.