Abandoned baby wallaby reared in rucksack at Longleat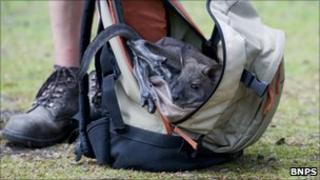 An abandoned baby wallaby is being reared in a rucksack as a substitute for its mother's pouch.
The animal, thought to be about six-months-old, was one of a group of about 30 wallabies housed at Longleat Safari Park.
He was found abandoned in the park a few weeks ago and three keepers now take turns to carry him around in the bag.
The keepers, who take the wallaby home with them, feed him every four hours.
Beverley Evans, one of the keepers, said that when the wallaby was found he had faced certain death as he was cold, very still and alone.
She said: "At first it felt a little strange to be carrying this rucksack around wherever I went, but after a while you do get used to it and I hardly notice the extra weight now - although in recent weeks he is beginning to get a lot more boisterous."
A Longleat spokeswoman said the red-necked wallaby would be gradually introduced to the existing group at about 10-months-old, when he is fully weaned.