Pianist Ian James plays for hospice giving him cancer care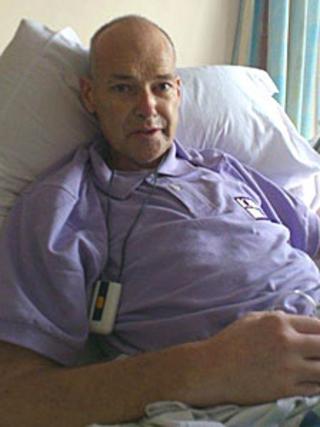 A man who was given six months to live when he was diagnosed with cancer hopes to raise £4,000 for the hospice that has cared for him.
Ian James, 56, a pianist from Swindon was diagnosed with cancer of the oesophagus, in July 2009.
He hopes to raise funds by selling a CD of his music, Piano Man, from his bed at the hospice and by performing at a cabaret evening later this month.
Mr James said by "dedicating your life to others you forget what you've got".
Each year around 7,800 people are diagnosed with oesophageal cancer in the UK.
It is the sixth most common cause of cancer death and accounts for around five percent of all UK cancer deaths.
'Astonishing spirit'
Mr James said: "Basically they gave me six months to live - that was last July, 29th of July actually, and I'm still here.
"And because of what they [Prospect Hospice] have done for me, since I've come here, I'm going to play one piece [at the charity concert] and if I don't make it up on stage they said they'll carry me up on there."
The hospice looks after 1600 patients each year both in the hospice and in the community.
Andrew Thompson from the hospice said: "His spirit is astonishing. Clearly he's so appreciative of the care he's had whilst he's been at Prospect Hospice that he's wanted to generate some fundraising for it.
"It's astonishing that someone in Ian's position feels that he really wants to make a difference to what we do and we greatly appreciate it."
Ian James' final piano concert will be at the cabaret evening at Blunsdon House Hotel on 21 August, with all money raised going to Prospect Hospice.