Family home in Toothill, Swindon, struck by lightning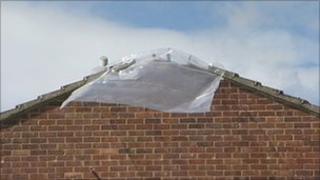 A Swindon family escaped unhurt after their house was struck by lightning.
Holly Gunning, her partner and two young children were at their Toothill home on Sunday when the lightning hit.
The children's bedroom and bathroom were damaged as well as the roof. The family has had to move out until it is all repaired.
BBC weatherman Ian Fergusson said the West Country saw a number of thunderstorms through Sunday afternoon and evening.
"Lightning strikes to domestic properties are uncommon but can be devastating," he said.
'Unimaginably loud'
"The damage to this property could have been far worse."
Ms Gunning said the thunderbolt came out of the blue.
"All of a sudden there was the loudest bang you've ever heard," she said. "It was unimaginably loud.
"Then the neighbours came round and said 'your house has been hit by lightning'.
"We called 999 and then ran into a neighbour's house to seek shelter. It was all very scary.
"There was a piece of plaster blown out of the wall in the children's bedroom and pieces of this landed on their cot and bed.
"It would have been a lot more serious if it had happened later as the children would have been in their room and they could have got hurt."