Rise in number of 'paupers' funerals' in Wiltshire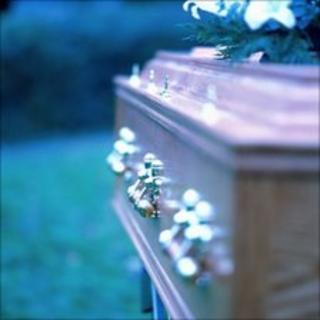 There has been a rise in the number of "paupers' funerals" in Wiltshire, according to figures.
Responsibility falls to the council or the NHS when a deceased person has no relatives or their family cannot pay for a funeral.
Such burials and cremations have cost Swindon taxpayers £86,000 in the last three financial years.
Great Western Hospitals NHS Foundation Trust has paid more than £31,000 since 2007.
The trust said it had carried out 40 public health funerals between 2007 and 2010, costing an average of £1,200 each.
The amount paid by the trust rose from £7,555 in 2007/8 to £10,685 in 2008/9 and £13,407 in 2009/10.
'Social isolation'
The cost covers transfer to the funeral director, a hearse, a service conducted by a hospital chaplain, a burial or cremation and the scattering of the ashes in the garden of remembrance.
Swindon Borough Council said it had paid for 34 burials between 2008 and 2010, each with an estimated cost of between £1,500 and £1,600.
The number of cremations or burials paid for by Wiltshire Council has doubled in the past five years.
Jane Funnell from Age UK Wiltshire said: "A lot of our services try to address the problems that social isolation and loneliness can cause for older people, particularly around ensuring that people have networks of friends and relatives or where they haven't, that we have services that can help.
"I think it's just an indication of the number of particularly older people who perhaps live very lonely and isolated lives and don't have relatives to look after things for them once they have died."