Ex-soldier Jonathan Haynes guilty of rape and kidnap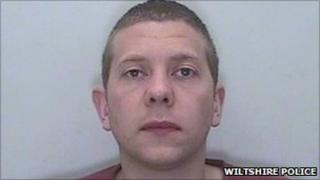 An ex-soldier has been convicted of raping three teenagers after meticulously planning the attacks.
A Bristol Crown court jury convicted Jonathan Haynes, 30, of Northampton, of rape, kidnap and attempted kidnap.
Haynes abducted and raped a girl, 16, after she had left a nightclub in Chippenham, Wilts, in September 2009.
He raped an 18-year-old student in halls of residence at the University of Glamorgan, Pontypridd, 13 days later and a girl, 17, in Chippenham in 2010.
In February 2010, he tried to snatch two 14-year-old girls from a country lane near the Wiltshire town.
Black balaclava
The 17-year-old was kidnapped from a street weeks later and repeatedly raped.
In total, Haynes was found guilty of six counts of rape, two of kidnap and two of attempted kidnap.
The court was told Haynes, of Saxon Street, had carefully planned his attacks for weeks as he prowled the streets of Chippenham looking for victims late at night.
He wore a black balaclava and gloves and would drag the victims into his car before tying their hands, covering their faces and threatening to stab them if they screamed, jurors heard.
He would then drive the victims to a secluded spot near Buckley Barracks in Hullavington, near Chippenham - where he had been based - and repeatedly raped them.
The court heard that before the first attack Haynes, who also worked part time as a doorman at the Market Tavern in Stroud, Gloucestershire, had driven an Audi hire car, which unknown to him was fitted with a GPS tracking device.
After his arrest, detectives pieced together his movements and found he had been cruising the streets of Chippenham during the early hours.
Analysis of his mobile phone showed he was in the vicinity of all the attacks.
'Immense bravery'
Features of the rape of the 16-year-old matched that of the two later attacks, the jury was told.
Det Ch Insp Bob Hamlin, from Wiltshire Police, commended the five victims for their "extreme courage" during the investigation and trial.
"During her traumatic ordeal, one of the victims was so determined to help police find her attacker that she had the amazing presence of mind to pull out some of her hair and hide it in between the seats of the car that she was abducted in," he said.
"Another victim remembered details of the vehicle's distinctive CD player and part of the car registration number.
"These victims' actions should be commended and the immense bravery of all the young women greatly assisted us in identifying Haynes."
In a statement following the hearing, South Wales Police said: "Today, Jonathan Haynes has been convicted of an appalling sexual assault on an innocent young woman.
"That freshers' week at the University of Glamorgan, she was embarking on an exciting chapter in her life and was looking forward to a new education in a new place.
"Haynes took all this and more away from her.
"This was a very serious offence, and we devoted unprecedented resources to this investigation which ran for a long time.
"This type of crime is very rare in south Wales, so the incident and the subsequent media interest had a massive impact on the student population but also on the wider Pontypridd community."
Haynes was remanded in custody until sentencing which is due to take place on 8 September.