World Youth Day journey for young people from the West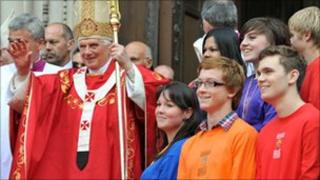 Young people from the West are heading to Madrid in Spain to meet the Pope at the world's biggest youth festival.
A group of 46 from Wiltshire, Bristol, Gloucestershire and Somerset left on Wednesday for World Youth Day 2011.
The event is held every three years for young people who want to share with others the faith and hope they have by giving their lives to Jesus Christ.
Two million young people, including 3,200 from England and Wales, are expected to gather to see the Pope.
Tom Rees, a parishioner at St Mary's in Swindon, said: "One thing that strikes me is meeting with other young people and experiencing what it is to be a Catholic in other parts of the world.
"World Youth Day is a beacon of the Church's care and devotion to the welfare and spiritual wellbeing of its young adults.
"With the perfect blend of celebration and reflection, this event revitalises faith in our young people."
Alice O'Neill, an altar server from Clifton Cathedral in Bristol, said it was an amazing opportunity to experience the Church's diversity and oneness.
"It gives us the chance to reflect together on the Word of God and how we can live our lives more fully in Christ," she added.
World Youth Day 2011 runs from 16-21 August.