Churches "must adapt to survive" says Swindon minister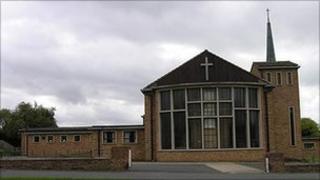 Churches in Wiltshire need to adapt to their communities in order to survive, according to faith leaders.
And while some churches in the county are seeing increases in the number of people attending, many more are not.
Leaders of all denominations say part of the problem is that people are often afraid to cross the threshold.
Churches like St Andrews Methodist Church at Moredon in Swindon recognise that they need to take a more active part in their communities.
Church Minister, Reverend David Gray said: "It's very much the ethos of St Andrews that they want it to be a community church.
"There's not really much of a community building in the area, so the feeling is if we're just using our church on a Sunday then it's very much a waste of that building, so we've been prepared to open it up to groups that want to use it."
Already two brass bands rehearse there, and many young people's groups also meet in the church.
Mr Gray said it is serving to break down the barriers which often exist between the community and the church.
"People who wouldn't think of coming in on a Sunday because they would be afraid to set foot inside it are actually coming into the building and realising the people who are with the church are friendly people, welcoming people," he said.
"Who knows, maybe they would like to make the next step of coming to church."