Demolition begins on glove-maker Dents' old premises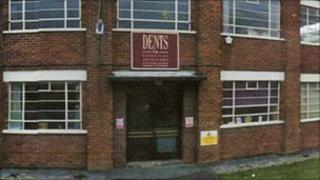 Bulldozers and excavators have started demolishing one of Warminster's most famous business premises.
Glove-making firm Dents is expanding, and its 1930s-built offices in Fairfield Road are being knocked down to make way for a new development which includes a Waitrose foodstore.
The firm, which started in 1777, has supplied gloves to royalty, celebrities and the film industry.
Its new, larger, custom-built building is in a nearby business park.
Dents director Deborah Moore said it was a sad day for many of the employees, some of whom had worked at the premises for more than 40 years, but it was also a celebration of an "exciting future".
She said: "Two hundred years ago, when Dents was a fledgling glove maker, I doubt many of them could have dreamed of these premises which are now being demolished.
"What they would think of our new head office and factory, with their electronic equipment and high-tech facilities, I can't imagine!"