New CCTV pictures of missing man in Wiltshire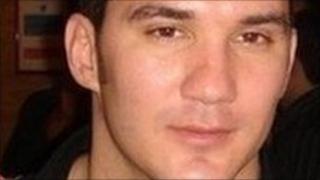 New CCTV footage has been released as part of the renewed inquiry into the suspected murder of a Wiltshire man.
Donavan Van Lill, 29, a fitness instructor from Chippenham, went missing from his home in March 2010.
Two weeks ago, 70 CCTV clips taken from a pub's camera on the Pewsham Estate where he lived were released.
Police said they form part of a wider appeal "to identify people who were in the area close to Donavan's home on the day he went missing".
The case is being re-examined after Mr Van Lill's friend Martin Sugden, 42, a former marine, was cleared of murder in April.
A Wiltshire Police spokesman said the footage, taken from a security camera near the Old Lane pub, "shows two people, believed to be men, jogging or running in the area close to Donavan's home on the morning he went missing".
"As they run, the men cause two vehicles to brake and take evasive action to avoid colliding with them.
The first vehicle shown in the CCTV, closest to the camera on the roundabout, is described as a small black or dark coloured five door hatchback. The second is described as light-coloured, possibly an estate car.
Good response
Det Insp Don Stirton said: "As a direct result of the appeal we have been able to identify and eliminate over 11 vehicles and one pedestrian captured on the CCTV.
"I would appeal directly to the individuals shown in this footage, including the car drivers, to come forward so we can remove you from our enquiries as necessary."
Despite extensive police searches, Mr Van Lill's body has never been found.
Appeals on Crimewatch and an internet campaign have failed to turn up any trace of him.
The charity Crimestoppers is offering a £5,000 reward for information leading to a conviction.