Longleat Safari Park western lowland gorilla marks '50th birthday'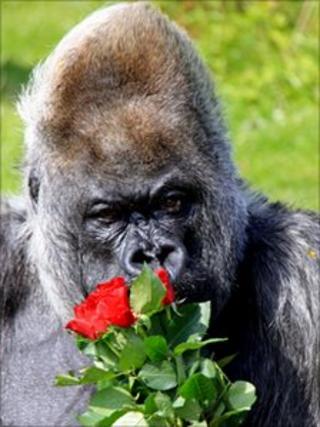 A western lowland gorilla, known as Nico, has celebrated his "50th birthday" at Longleat Safari Park.
The 32-stone (200kg) gorilla arrived at the safari park soon after it opened in 1966 from a zoo in Switzerland and is thought to be at least 50 years old.
Nico is also thought to be the oldest silverback in Europe and the second oldest male gorilla in the world.
Keeper Mark Tye said Nico was "still extremely active and in amazingly good condition considering his age".
For the last few years, Nico has been living on a "centrally-heated island" complete with satellite television and Sky Plus.
Mr Tye said it was difficult to think of a present for the gorilla "as he's pretty much got everything already".
"Someone came up with the idea of a bouquet of flowers," he said.
"Although I'm sure he appreciated the sentiment he couldn't really disguise his lack of enthusiasm for them."
The oldest male gorilla in the world lives in the USA and was born in 1961 while the oldest female, who also lives in America was born in 1956.