Economic method found to clean Crammer pond in Devizes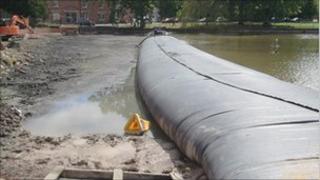 The cost of cleaning a polluted pond in Wiltshire will cost less than originally estimated.
Devizes Town Council had said it could cost £100,000 to decontaminate on site the polluted silt at the bottom of the Crammer.
It will now be removed and taken to a specialist centre to be disposed of, costing "considerably" less.
The problem has been caused by oil from vehicles passing on the road alongside the pond running off into the water.
Deputy Town Clerk Simon Fisher said: "We hope we can remove the silt and take it away at considerably less than half [the original estimate].
"If you start decontaminating on site you need a much bigger area, and there is a lot of work to be done.
"But if you take it away it can be done at a specialist centre and therefore that level of work isn't necessary."
The clean-up operation is due to be begin in the next couple of weeks.