Inquiry after ambulance runs over motorcyclist in road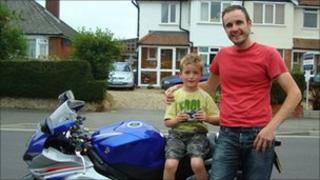 A motorcyclist who came off his bike and fell on to a road was run over by an ambulance, police said.
An investigation has begun into the circumstances surrounding the death of Michael James Colley, 33, in the early hours of Sunday.
He was lying in the road on Black Dog Hill near Calne, Wiltshire when he was struck by the ambulance, police said.
Police and Great Western Ambulance Service (GWAS) have launched an investigation.
In a tribute, Mr Colley's family described him as a loving brother and uncle.
Wiltshire Police said it was unclear whether Mr Colley, from the Chippenham/Calne area, was alive when he was hit by the ambulance.
'Witnesses not suspects'
GWAS said the ambulance was taking a patient to the Royal United Hospital in Bath at about 02:00 BST on Sunday.
He said on Black Dog Hill, a motorist tried to flag the crew down down to alert them to the motorcyclist.
"Tragically, the crew did not see the body in time and the vehicle hit the male motorcyclist lying in the road," the spokesman said.
"Our sincere condolences go to the friends and family of the deceased motorcyclist in this tragic event.
"We are co-operating fully with the police investigation."
He said the ambulance had its blue lights on but no sirens, and had not been travelling at speed.
Mr Colley was treated by paramedics and two doctors but was pronounced dead at the scene.
The GWAS staff are being treated as witnesses and not as suspects, the spokesman said.
In a statement, Mr Colley's family described him as a loving brother and uncle.
"Michael was a charismatic and generous man who was much loved by all that knew him, he will be really missed," they said.
"We hope that people will smile when they remember him."
The patient who had been in the ambulance was assessed and treated by a doctor at the scene and did not need to go to hospital for treatment, the GWAS spokesman said.
Wiltshire Police have appealed for witnesses.