Concerns raised over disappearing Wiltshire river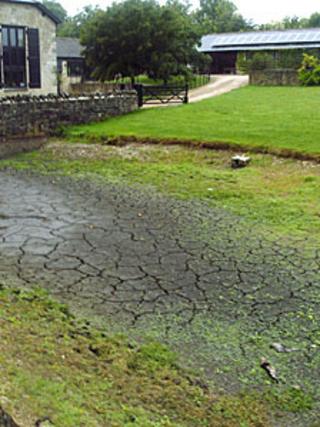 Residents of a small Wiltshire village are concerned that the river flowing through their community is disappearing.
Two chalk streams, tributaries of the River Stour, once flowed through Mere.
Now residents say the 10ft (3m) wide "strong flow of water" has been reduced to a dried up "muddy ditch" in places.
Wessex Water say low levels of rainfall are to blame but residents claim the company is pumping too much of the underground water that fed the streams.
Adrienne Howell, whose family has lived in the area for generations, said it is "now so bad" that "fish are dying".
"It has always been an amenity in Mere. We had a 'riverside walk' but there's now no riverside," she said.
"Burton Pond has completely dried up and the ducks have been seen fighting over the water that's left.
"People have been putting up boards to back-up the river to create pools and we've had to rescue small fish."
Wessex Water has a licence to extract up to 9 million litres of water a day from the area's underground water source.
But according to Luke de Vial, head of water recovery, the company is only extracting "8m litres a day".
"The Environment Agency sets the maximum - and we're not taking the full amount," he said.
"Obviously there's no such thing as a free lunch and there is some sort of impact but there's no evidence of long term decline in water levels."
According to Mr de Vial, Mere's chalk streams are classed as winterbournes - streams that "only normally flow in the winter" and "dry up in summer".
But Mrs Howell said "historically that's not the case".
"Ashfield Water once fed watercress beds and horticultural greenhouses and people wouldn't have built mills and sheep dips on winterbourne streams," she said.
'Sorry state'
Another resident, Ian Sheppard, is a volunteer with the Wiltshire Wildlife Trust. Trained as a river monitor he is "without a river to monitor".
"I'm supposed to monitor the health of the river but there's no water to do a health check on," he said.
"I was born in the village and the flow varied a bit between summer and winter but now it's in a sad and sorry state.
"I think it's the cumulative affect of years and years of water being taken by Wessex Water."
According to a spokesman for Wessex Water, a report was carried out in 2008 with the Environment Agency on the "impact of abstraction at Mere on river levels"
"It did not require any changes to the volumes of water we are licensed to abstract."