Police plans in place to avoid trouble at Swindon match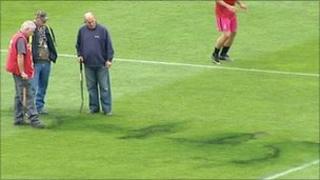 Efforts are being made by police to avoid trouble at a derby match in Wiltshire between Swindon Town FC and Oxford United.
The match at the County Ground in Swindon has been moved from 3pm on Saturday to 1pm on Sunday to prevent drink-fuelled trouble, police said.
Wiltshire police's acting detective sergeant James Neighbour said: "A lot of disorder is alcohol-induced."
Dog units and officers on foot patrol will also be drafted in for the game.
'Negate disorder'
Officers from Wiltshire Police and Thames Valley police are working together by sharing intelligence and getting more officers on the ground.
"The reason for holding it on a Sunday is to negate any disorder as much as we can," Det Sgt Neighbour added.
"The fact the next day is a working day dissuades people from drinking as much as perhaps they would on a Saturday."
A week ago, vandals broke into Oxford United's Kassam Stadium and burnt 'STFC' - the initials of local rivals Swindon Town FC - into the pitch.