Country house raid gang member Daniel O'Loughlin absconds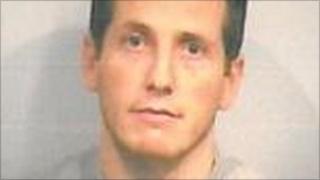 A man who was behind a series of raids on country houses has absconded from jail.
Daniel O'Loughlin, 35, was jailed for 11 years in 2008 for his part in raids on country houses such as Ramsbury Manor in Wiltshire.
The Lord Lieutenant of Berkshire and an advertising tycoon were other victims.
O'Loughlin had been given a temporary release from HMP Hatfield in South Yorkshire for a work placement but failed to return, police said.
Officers said he should not be approached and added O'Loughlin has "strong links" to Evesham, Tewkesbury, Cheltenham and Berkshire.
Half of the items stolen in the raid on Ramsbury Manor - the home of property tycoon Harry Hyams - were not recovered.
O'Loughlin was ordered to repay more than £113,000 which he gained through criminal activities.