Swindon Honda factory staff return to full-time work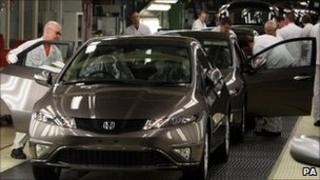 Workers at Honda's factory in Swindon have returned to work on a full-time basis.
The car manufacturer scaled back production to two days a week after the earthquake and tsunami in Japan affected its supply of components.
The workforce stayed on full pay during this period and built up a balance of hours to owe the firm.
Paul Ormond from Honda said he was unsure how long it would take staff to work their banked hours.
He said: "It varies from person to person but obviously that's something the company has got to talk to the workforce about and negotiate over the coming months."