Gamekeeper gets suspended term for driving at helicopter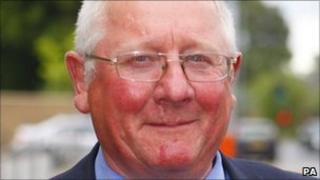 A gamekeeper from Wiltshire has been given a suspended five-month jail term after he drove his Land Rover at a low-flying Army helicopter.
Malcolm Hughes, 61, of Pewsey, was told he could have killed the two crew members in the incident in 2009.
The pilot, who was flying at 5ft (1.5m) at one point, avoided a collision when he spotted Hughes' vehicle.
Hughes, who said he was trying to see the aircraft's registration, was sentenced at Swindon Crown Court.
He was also told to carry out 120 hours' unpaid work and pay £1,000 prosecution costs.
Hughes was found guilty of endangering an aircraft, at an earlier hearing.
'Quite intentional'
The jury heard that Lt Andrew Higgins had been flying an Army Air Corps Squirrel helicopter at about 20ft (6m) after taking off from Middle Wallop in Hampshire with trainee pilot Bombardier Henry Luck.
The pilot carried out safety checks before beginning to drop to 5ft (1.5m) when he spotted Hughes.
Prosecutor Justin Gau said Hughes, of Raffin Lane, drove his Land Rover beneath the helicopter and gestured "angrily" that it should leave.
The pilot had to take evasive action to avoid Hughes' vehicle, the court heard.
"It was clear and quite intentional the Land Rover had been driven at the helicopter."
Following his arrest, he told police that he had not driven under the helicopter and the closest he had been 300m (985ft) away.
Passing sentence, Judge Douglas Field, said he was satisfied that Hughes was not trying to hit the helicopter deliberately.
"Tremendous damage would have been caused, putting the lives of the occupants of the helicopter and yourself at risk," he said.
Hughes' sentence was suspended for 12 months.