New Wiltshire home care service rolled out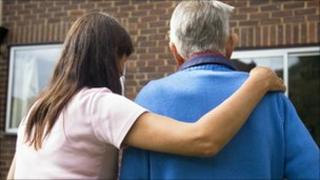 A new care service aimed at helping more vulnerable people stay in their own homes has been introduced in Wiltshire.
From Monday, wardens are being replaced by a 24 hour call-out system, in a joint project between Wiltshire Council and the NHS.
Four care providers have been chosen to run the system, which will affect 3,000 vulnerable people.
The Conservative-run council said it was providing a better service.
Some elderly people took part in a working group to decide how to develop the support.
A consultation took place but some service users claim they were not told of the changes in advance.
After suffering a heart attack and stroke, Patricia Simpson Bysman, 69, from Melksham, is immobile, unable to read and relies on a team of carers for her everyday needs.
She said she was unhappy that her care provider could change.
"I don't see why I should be subjected to this stress, certainly without consultation," the former Scout leader said.
"It means at my age I have to start all over again with someone new which is hardly fair when there's been no consultation with me.
"It really is upsetting me a great deal."
'Absolutely gutted'
Sammy Doonan has been Ms Simpson Bysman's main carer for three years.
She said: "It's the same across the board with all us carers, we're absolutely gutted.
"Not only are we losing our clients but they've also become our friends over the years so we've built up a really good relationship.
"To see that to just go with no warning whatsoever is pretty disappointing."
Wiltshire Council said it is spending an extra £34m on adult social care over the next five years due to an ageing population and people living longer.
Council officer Nicola Gregson said the services provided by wardens and care workers, which had been provided by different organisations, were being brought together, with the four care providers operating in different areas.
'Huge change'
The council's Conservative deputy leader John Thomson said an official from the authority would pay Ms Simpson Bysman a visit.
"We will do everything to try and maintain the carers she has," he added.
"Part of the project is rather than having lots of different people turning up to provide care you will have one person."
He said the council was spending £15m on the scheme while the NHS was spending £5m.
"It's not about saving money, it's about providing a better service and keeping people in their homes as long as possible," he said.
"There is a larger number older people in Wiltshire. It's a huge change for us as a council."
Sue Anderson, branch secretary of Unison in Wiltshire, said: "We are keen to work with the new providers to make sure the best service possible is given to the residents and that staff are treated fairly."