Swindon Night Shelter to expand facilities for homeless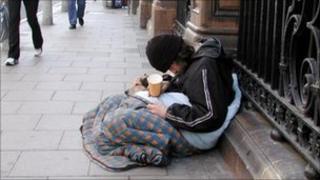 A church-based night shelter in a Wiltshire town is expanding.
Swindon Night Shelter was set up in January 2009 to offer a safe, dry and warm place for those without a home.
The facility is a roaming shelter, located at various churches in the area, including St Mary's at Woodbourne and Elim Church at Gorse Hill.
Rodbourne Road Methodist Church will now offer help. "It's blessed the church. It's blessed me," said Chris Coombes, Lay Minister at St Mary's.
"Two-and-a-half years ago we opened the church on a Saturday night to sleep the homeless and it's been brilliant, absolutely brilliant," he added.
"We've met so many interesting people."
Hot meals
Since its inception, the facility has also teamed up with the Food bank, so volunteers can offer a hot meal as well as a bed.
Organiser Becky Davison said: "When we started we just thought it would be lovely to use the church.
"The churches are all shut, they're all locked up at night, and they really should be open to people who've got nowhere else to go.
"That was the initial idea behind it."
Charlie was made homeless after a relationship broke down. He spent 18 months on the streets and during that time found the Swindon Night Shelter.
"[I had] nowhere else to go, literally nowhere else. It's a warm welcome; people cared, people listened. It's somewhere to sleep, somewhere to clean up - it gives you a bit more self-respect and dignity, which you lose when you're on the street."
Charlie now has a flat but still uses the night shelter on a Saturday night because he regards those that run it, and use its facilities, as an extended family.
It also helps him to maintain the faith that he has found.
"It's steered me close to God, I've found my faith again," he added.