Bulford soldiers awarded Afghanistan service medals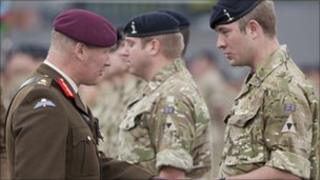 Soldiers based at a barracks in Wiltshire have received operational medals after serving in Afghanistan.
The 150 soldiers from 3rd (United Kingdom) Division Headquarters and Signal Regiment were awarded Operation Herrick medals at Picton Barracks in Bulford near Salisbury.
Their duty in Afghanistan was to deliver "mission critical" communications to the front line.
Signaller Shaun Hunt said he felt "proud" on receiving his medal.
He added: "The tour was definitely a good life experience and now it is good to be home and to have had some time off.
"The workload is the same for everyone and we worked hard out there for six months - you just get on with it."
Following a parade there was a motorcycle display by the Royal Signals White Helmets.
The soldiers' returned to the UK on Saturday 18 June. This marked the end of the regiment's operational deployment throughout Afghanistan during which they supported 16 (Air Assault) Brigade, and later 3 Commando Brigade.