Salisbury Cathedral offers chance to be a chorister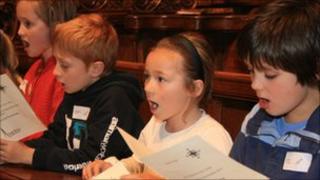 Salisbury Cathedral is once again offering young children the opportunity to sing in their choir.
The cathedral choir's annual open day event Be a Chorister for a Day takes place on Saturday 12 November.
The day offers both boys and girls, in school years two to four, the chance to experience the life of a chorister.
Activities on the day include a rehearsal and then the opportunity for youngsters to sing alongside the main cathedral choir.
David Halls, the cathedral's director of music, said: "The children have a great time with the current choristers.
"As well as singing together, they can ask them all the questions they've ever wanted answered about life as a chorister - the daily routine, concerts, recordings, radio and TV broadcasts, tours and all the extra-curricular activities which choristers enjoy.
"I am particularly trying to reach families with musically talented children who are not aware of the many opportunities being a chorister at Salisbury Cathedral offers.
"For many the first step is about breaking down the mystique and myths surrounding chorister life."
For further details and an application form email: chorister.recruitment@salcath.co.uk or telephone 07587 826622.
The closing date for returned application forms is Saturday 5 November.