Great Bustards to be freed at new Wiltshire release site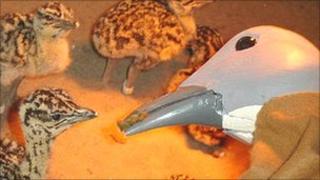 A second release site has been chosen in south Wiltshire for the release of Russian Great Bustards this week.
The Great Bustard Group (GBG), which hopes to repopulate the UK with the bustard, is releasing 15 birds at an undisclosed location in the county.
A further 15 young birds will also be freed at the group's original release site on Salisbury Plain.
David Waters from the GBG said the new site was chosen by "looking at where the birds have gone in previous years".
He said: "This new site is in south Wiltshire and on private land.
"For obvious reasons its location is being kept condidential."
The world's heaviest flying bird, hunted to extinction in the UK in 1832, was reintroduced to Salisbury Plain by the GBG seven years ago.
Since then the group has released over 100 birds in the county in an effort to create a viable UK population.
Six week old chicks, reared from eggs in Southern Russia, are flown to the UK and following a 30-day quarantine period are released.
"All the birds this year are having a short spell in pens at the release sites before being set free," said Mr Waters.
"They'll be tagged but only a third of them will carry a transmitter.
"We dont' want to load the birds with electrical equipment - we want them to look as natural as possible."
Old birds
To give the birds the "best possible start" the release date is "weather dependant".
And to "sustain them through the autumn" the Great Bustard Group has planted crops of rape and kale at the release sites.
"Hopefully the birds will appreciate our efforts," said Mr Waters.
"Two older males have been spending most of their time in and around the original release site - so we hope they will stick around during the release phase.
"The interaction of the new and the old birds is key to the survival of the new birds."