Swindon man Antony Smith not guilty of stun gun attack on wife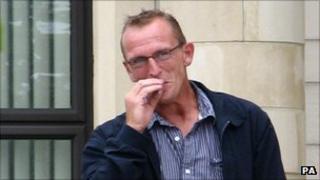 A man accused of assaulting his wife with a stun gun has been found not guilty of the attack.
Antony Smith, of Acorn Walk, in Eldene, Swindon, had denied shocking his wife Terri with the gun, but admitted possessing the weapon.
Mr Smith, 42, was accused of jabbing her with the gun four or five times at their home on 19 February.
Magistrates in Chippenham had been told Mr Smith used the gun during a 10-minute attack on his wife.
Prosecuting, Roxanne Cole told the court the gun - which was described as having a nine-volt battery and two electrodes - was used for 20 to 30 seconds on Mrs Smith after she smashed a mirror against his back.
'Volatile marriage'
Giving evidence, Mrs Smith described her marriage as "volatile" and "unhappy".
The court heard that on the evening of the attack, the couple had been at a snooker club in Swindon and had both been drinking alcohol.
Mrs Smith said: "I don't know what came over me, I just suddenly got up and flipped [the coffee table] over. [I had] so many mixed emotions going round my head about different things - sad, angry - about the way life was.
"I grabbed the mirror behind him and hit him with it on his back.
"As I was stood in the living room I felt something sharp to my stomach. I recall him having something in his hand, it was making a loud clicking noise. I believe it was a stun gun.
"He was jabbing it in my side, in my stomach."
She described the pain as a "sharp stabbing".
Mr Smith was found not guilty of assaulting by beating, a charge he had always denied.
He had pleaded guilty to possessing the weapon, contrary to the Firearms Act 1968, at an earlier hearing at Swindon Magistrates' Court.