Concerns over noise of power wash at Swindon bus depot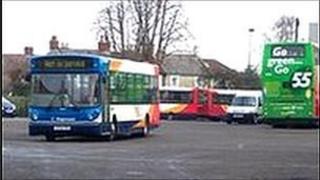 Residents living near a bus depot in Swindon are to find out if the company can wash buses late at night.
Bus company Stagecoach wants to extend the use of power washers until 22:00 BST, and a static bus wash until 23:00 BST, Monday to Saturday at their depot in Eastcott Street in the town.
But residents claim the sound of power washers and the bright lights are already disturbing them at night.
Councillors will vote on the plans at a meeting later.
The planning applications, including an application to allow lighting for the static wash, were all refused last year as no satisfactory evidence was submitted to show it would not cause harm to local residents.
Satisfactory evidence has now been submitted, including a noise assessment which states that jet washers do not exceed the legal limit of 55 decibels.
But Carrie Barton-Fox, who lives nearby, said she had also been affected by lights.
She said: "We've got black-out blinds in the front bedroom to stop it coming in because it does keep you awake."
Stage Coach said it did not want to comment on the proposals before the planning meeting.
A bus depot has operated at the Eastcott Road site for the past 50 years.