Campaign to reopen recession-hit Swindon pub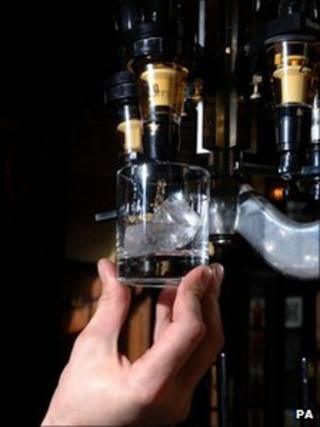 A group of residents in Wiltshire have launched a campaign to reopen a local pub, which closed during the recession.
The George on Eastcott Hill in Swindon's Old Town shut a year ago because of tough trading conditions.
Last month, The George's owners Enterprise Inns said that the historic venue was to be sold.
It has not been announced whether the residents want to buy the pub or find someone to lease it. Swindon's Campaign for Real Ale is supporting them.
"If we can get enough local people interested, who will come in to use the place, we can show that there's a bit of a business plan and there's money to be made," said Elaine Maloney, a customer at The George for more than 30 years.
Enterprise Inns confirmed that The George was for sale on the open market.
Swindon Camra chairman Hans Hoffbauer said: "The thing about The George is that it's one of the oldest pubs in Swindon.
"It's in a smashing old Cotswold stone building and it goes back to the 1840s probably."
'Real shame'
Figures from the British Beer and Pub Association show that two pubs a week are currently closing across the South West.
The residents' group is also interested in reopening The Duke of Wellington, also in Eastcott Hill, which is run by Arkell's Brewery Limited.
A message on the Arkells' website said The Duke of Wellington is "temporarily closed".
"In the case of this particular one, it was just no longer doing the volumes of sales to make it viable really, for either us as a brewery or a tenant," said Barry Russell, the director of finance at Arkells.
Dave Wood, Liberal Democrat councillor for Eastcott, said it would be great for the area if both pubs were to reopen.
"I think for the community it's a real shame if both of these buildings were not to be pubs in the future," he said.
"Obviously it's a really, really difficult time with the recession.
"I think in the long-term if both of them were not to be pubs in the future, I think it would be a very sad loss for the area."