Birds at Longleat Safari Park given safe pylon perches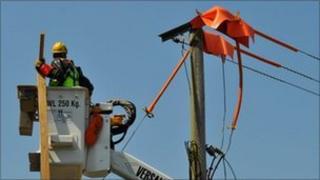 Wooden perches have been installed on pylons at Longleat Safari Park, in Wiltshire, in an effort to stop birds being electrocuted.
The T-shaped perches are intended to prevent birds of prey from landing on the poles themselves.
It was feared birds risked death and could affect local power supplies if they were electrocuted.
The Hawk Conservancy Trust, based in Andover, Hampshire, said it had so far proved a great success.