Neck stab murderer Karl Quincey loses appeal bid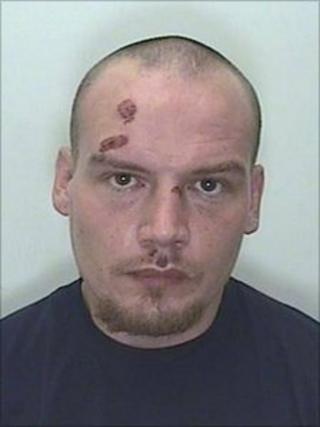 A murderer who stabbed his victim 11 times in the neck has been refused permission to appeal against his conviction.
Karl Quincey, 35, from Devizes in Wiltshire, was jailed for a minimum of 17 years in November after a jury found him guilty of murdering Barry Cooper.
He attacked Mr Cooper, 28, in the hallway of flats in Devizes in June 2008. Mr Cooper died in hospital.
Quincey sought permission to challenge the verdict, arguing it was "unsafe".
His lawyers said a series of confessions he made to three medics should have been excluded from the trial at Winchester Crown Court.
London's Appeal Court also heard on Tuesday that Quincey, who has a history of violence and mental health problems, allegedly told a prison guard that he killed Mr Cooper "under the influence of Satan", but jurors had not been told.
Mr Justice MacDuff, sitting with Lord Justice Elias and Mr Justice Eady, concluded that the evidence from the medics was rightly put before the jury, and that they had told Quincey that "what he said would not be confidential".
Refusing permission to appeal, he said: "The judge's exercise of discretion cannot be criticised."