Meningitis vaccine 'would have saved son's life'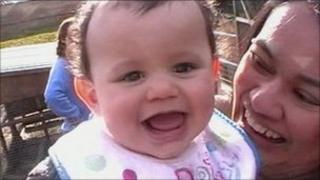 A Wiltshire man believes that a meningitis vaccine he worked on would have saved his son's life, if it had been available earlier.
Scottie Kern, from Swindon, lost his 11-month-old son Cailan when he died of pneumococcal meningitis two years ago.
Cailan had been fully vaccinated but just missed out on a new jab that would have covered his strain of the disease.
Mr Kern said that had it "been available 14 months earlier my son would still be alive".
In 2009, Mr Kern's son Cailan developed a fever and was admitted to the Great Western Hospital in Swindon suffering from seizures.
He never recovered and it was later found that he had died of pneumococcal meningitis.
In 2010 the Prevenar 13 vaccine, which provides protection against 13 types of the bacteria pneumococcus, was introduced into the Childhood Immunisation Programme.
Mr Kern said: "I actually worked in support of that vaccine.
"To go through a 15 or so year career and to have that happen to your own son... hope evaporates.
"You just can't get a sense of what is right and wrong."
Mr Kern has now signed a petition from the Meningitis Research Foundation (MRF) which calls on the government to include a meningococcal B (MenB) vaccine in the immunisation programme.
MenB, according to the MRF, has been the leading cause of life-threatening meningitis and septicaemia in UK children for decades.
'Worthy cause'
Harpinder Collacott, from the MRF, said: "Introducing a new vaccination will be an expensive endeavour but we want to make sure that the government doesn't compromise at all with regards to meningitis and septicaemia.
"It is much more cost effective to provide a vaccination for this disease as opposed to treat and support those living with the after effects of the disease."
Conservative MP for Swindon North, Justin Tomlinson, agrees the vaccine should be introduced.
"I shall raise this with the Health Minister and also look to do a series of parliamentary questions so that it is public.
"I'm sure there'll be many other MPs who'll be supporting this very worthy cause."