Wiltshire gents toilet becomes corner shop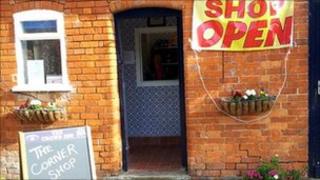 A disused gents toilet outside a pub in Wiltshire has been converted into a convenience store.
The "very tiny" village shop is located in a toilet block outside the Crown Inn in Bishops Cannings near Devizes and was officially opened last week.
The urinals and toilets, which had not been used for a number of years, were removed during the refurbishment.
Julie Lamb, who runs the pub with her husband, said they hoped it would make up for a lack of village facilities.
She said: "It's tiny - very tiny - we thought it was about 25 sq m but it's actually smaller than that.
"There's not much space but we've managed to get a freezer and a chiller in and we're selling all the traditional things like eggs, bread milk and - yes - toilet paper."
Mrs Lamb, who has been running the Crown Inn with her husband for the past 18 months, said the shop had already created "quite a bit of interest".
"We opened on Tuesday and we sold out of kitchen roll on the first afternoon - I've no idea why," she said.
"But there's nothing in the village - there are no facilities for local people or for the nearby campsite or boaters on the canal.
"So we're hoping the shop will pick up some of this trade."
The Corner Shop at the Crown is open seven days a week.