Private university's degree course begins in Swindon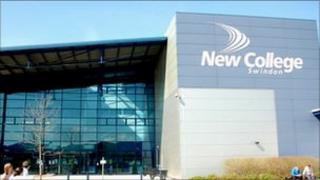 A Swindon college has become the first in the UK to partner a private university to offer a full degree.
New College in Swindon has teamed up with BPP University College to offer a law degree.
BPP University College became the first private university to be created in the UK for more than 30 years, last year.
But the UCU lecturers' union warned an expansion of the private sector in education "obliged to fulfil a bottom line" was "playing with fire."
The link-up between the degree-awarding private university and New College, is designed to benefit students who want to study locally.
The tuition fees for the three-year course in this partnership are £3,000 per year, this year, and £5,000 per year, next year, which is slightly less than most universities.
For the principal of New College, Graham Taylor, such an arrangement is a "logical progression".
"I think BPP are a great organisation. They have got some terrific tutors and terrific online material so you can see each of the units and each of the lectures online to compliment the teaching," he said.
"And of course we've got fantastic new facilities and we want to fill them up."
But Jonathan White, from the UCU lecturers' union, said he was "really worried" that partnerships with private companies would become "part of a precedent".
"I know there isn't a university in Wiltshire for them to go to," he said.
"And when people are being driven towards studying closer to home by the high fees everywhere else, it looks very attractive.
"But where 'for profit' education has become established in the USA, it's become associated with aggressively marketing degrees but not really delivering on those in the classroom."
The BPP University College of Professional Studies is the first private university to have been created in the UK since the 1970s.
It operates without higher education council funding and is part of the group that owns one of the biggest universities in the United States, the University of Phoenix.