Giant rabbit found in Swindon reunited with owner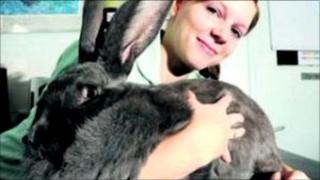 A giant rabbit found wandering around the centre of Swindon has been reunited with its owner.
The 8kg (18lb) pure bred continental giant rabbit was found in the middle of Birch Road in the town on Thursday.
The rabbit, nicknamed Thumper, was taken to Thameswood Veterinary Clinic and housed in a dog kennel as "she wouldn't fit in the small animal cage".
But following an appeal, the two-year-old grey rabbit was reunited with its owner on Saturday morning.
"Apparently her name is Daisy," said Lahni Butler, a veterinary nurse at the clinic.
"The owner said he'd left the gate open and she'd escaped but she didn't get far - just around the corner.
"We usually keep lost pets for about a week to give the owner time to come forward but we've got quite a lot of rabbit lovers here so she wouldn't have been hard to re-home."
When fully grown, continental giant rabbits can weigh up to two-and-a-half stone (16kg) and grow more than 3ft 5in (1.04m).