Thames Water accused over dry River Kennet in Wiltshire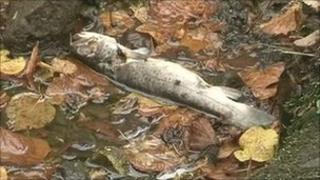 Wiltshire conservationists have accused Thames Water of over-abstraction after stretches of the River Kennet dry up.
Action for the River Kennet (Ark) has rescued brown trout and grayling stranded due to low water levels in the chalk stream near Marlborough.
Thames Water has a licence to take up to 13,000 cubic metres (2.9m gallons) from the River Kennet aquifer daily.
But the company denies over-extraction is to blame and said it only took water from the river to meet customer needs.
According to ARK, the upper Kennet near Marlborough College is "running so low that around 0.5km [550 yds] is entirely dry".
Charlotte Hitchmough, director of the group, said the last time "this stretch dried up so disastrously was apparently in 1976".
"But we've got most of the fish out and they've been put in the lake at Marlborough College."
'Dry winters'
The Thames tributary is one of 161 chalk streams in the UK.
Thames Water's licence enables it to extract the equivalent of five Olympic-sized swimming pools from the River Kennet aquifer every day.
But a company spokesperson said: "The Environment Agency, who are responsible for maintaining river flows, have made it clear that the cause of the current low flows in the Marlborough area is not water abstraction."
The ARK group, however, claims "the impact of prolonged over-abstraction" cannot be "entirely discounted as a significant contributing factor".
"It is a result of two dry winters in a row but at the same time as that is going on we know we're taking over 19 million litres [4.2 million gallons] of water a day from the same aquifer that feeds this river," said Mrs Hitchmough.
"And I don't think that there's any way that that level of extraction can be having no impact on the overall health of the river."