Wiltshire school reveals its £15.5m building plan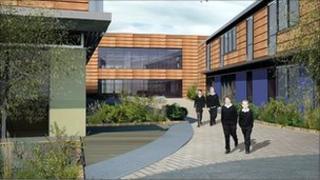 A £15.5m plan to rebuild a Wiltshire school has been unveiled.
Sarum Academy, near Salisbury, said its new campus will include a 330 seater theatre, hair and beauty salon, a workshop for mechanics and sports pitches.
Described as "educationally inspiring", the new academy is being designed by local architect Jane Lock-Smith.
Building worksis due to begin early next year and should be completed by September 2013.
The academy, which replaced Salisbury High School in September, will be partially rebuilt and completely refurbished under the scheme.
Ruth Johnson, the academy's principal, said the innovative and spacious design "will transform the community".
"It's based around our 'schools within schools' model. So that's going to really bring pupils into the heart of the academy," she said.
"It's going to be a state-of-the-art building with fantastic views across the countryside with lots of glazing, open spaces and exciting areas in which to learn."
The new academy will offer six form entry and all the facilities will be made available to the local community.
Sarum Academy is a Church of England Academy founded by a partnership between the Church of England, Bryanston School, Wiltshire Council and Bath Spa University.