Sale of Edward Heath's Salisbury home Arundells is blocked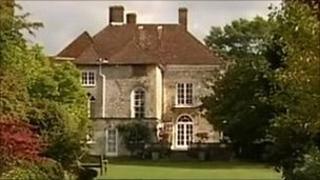 The Charity Commission has ruled the Wiltshire home of former Prime Minister Sir Edward Heath cannot be sold.
Arundells, in Salisbury, was left to the nation in 2005 and is run by the Edward Heath Charitable Foundation.
Although it attracts sellout tours, the trustees want to sell the property as they say they cannot afford to keep it open as a tourist attraction.
But the Charity Commission has ruled it cannot be sold as alternative funding options need to be explored first.
Sir Edward, who was prime minister from 1970 to 1974, lived at Arundells for the last 20 years of his life.
In 2008, three years after the Conservative MP's death, the house was opened to the public and since then more than 30,000 people have visited the property.
Last year, the historic house in Cathedral Close attracted more than 13,000 visitors.
Despite those numbers, the trustees claim the cost of running the house as a visitor attraction is too high and say the property and all its contents should be sold off.
'Wonderful news'
In 2010, they applied to the Charity Commission for permission to sell the site and use the proceeds for other charitable purposes specified in Sir Edward's will.
But the commission has now refused the application.
Tony Burnside, co-ordinator of the Friends of Arundells group, has been campaigning to keep the house open to the public.
He said: "We're delighted, this is wonderful news.
"It's very important for businesses and tourism in the area because this house has the potential to attract a lot of people."
The trustees have told the BBC that they are disappointed with the decision but have declined to comment further.