Foodbank in Swindon dumps 1.5 tonnes of food each year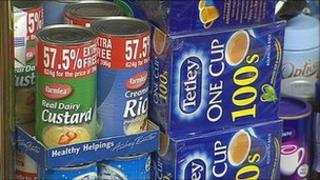 A Wiltshire charity had to throw out 1.5 tonnes of donated food last year as it was out of date or perishable.
Swindon Foodbank, which offers food boxes to those facing sudden crisis, discarded 15% of the 9.5 tonnes of food it received for Harvest Festival 2010.
The items included tinned goods from 1984, half-finished boxes of cereal and chocolate bars with teeth marks.
The charity is now requesting that people only donate items "they would want to eat themselves".
Richard Belsham, from the Swindon Foodbank, said they were "extremely grateful for everything given" but certain food items were unusable.
"We've had chocolate bars which have been given to us which have been re-sellotaped and the bars have teeth marks in the chocolate," he said.
"And we had a can of beans given to us which were dated 1984."
The Swindon Foodbank was launched in 2005 and is run by the Salisbury-based Trussell Trust.
Last year it gave away 28 tonnes of produce, of which 9.5 tonnes was donated by schools and the local churches during the Harvest Festival period.
"If we get food that's older then 2008 than we have to throw it away," said Mr Belsham.
"But anything that's 2009 or 2010 or the early part of 2011 we check the cans and if it looks OK we offer it to people as an extra and it's their choice."