Plan for new bridge at Bradford-on-Avon is scrapped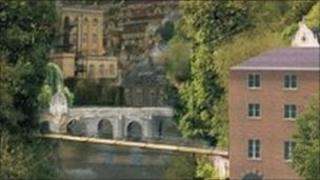 Plans for a footbridge in Bradford-on-Avon have been scrapped following a public consultation earlier this year.
A meeting of the town council was told the public vote was "decisive" with 57% of responders agreeing that no bridge should be built.
Mayor Peter Leach said the decision had brought the eight-year debate over another river crossing to an end.
"The arguments over the bridge design have been very divisive for the town," he said.
'Safety and prosperity'
Mr Leach, who is also the chairman of the Liberal Democrat-controlled council, added: "It's a difficult site where strict criteria need to be met in regards to safety and flood levels, as well as a design that appeals to the town.
"As only the Cable Stay bridge had the necessary permissions, the vote in April made the feelings of the town clear [that] no bridge should be built.
"This was a difficult decision for the town council. Some of us feel passionately that we need another bridge - both for the safety and the prosperity of the town.
"However, the town made its feelings clear and with only one bridge that had the full permissions, there is no option other than taking the bridge off the agenda," he added.
In a poll of almost 2,000 people in April, 1,356 sided with the Bradford Bridge Concern group which opposed the plan for the Wiltshire town while 561 were in favour.
The £850,000 bridge, which would have provided an alternative to the 15th Century road bridge, had already been approved.
Opponents said the look of the modern suspension bridge was not in keeping with the historic town.