Wootton Bassett: MP wants donations towards 'Royal' ceremony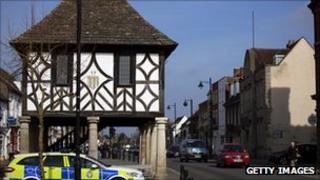 An MP has asked for donations to help pay for Wootton Bassett's "Royal" naming ceremony.
The Wiltshire town is to receive a "Royal" prefix in recognition of the role it played in 345 service personnel repatriations in four years.
HRH Princess Royal is due to grant Letters Patent to the town on 16 October.
North Wiltshire MP James Gray said the overall cost to the town council would be up to £65,000.
He said: "I very much applaud the town council's determination to try to break even and to avoid adding additional costs to council tax payers for the day.
'Fitting way'
"But at the same time I feel that the day has to be one which the town, and indeed the nation as a whole, will remember with pride for years to come."
Council plans for the day include a temporary park and ride scheme, the deployment of crowd control methods and the erection of giant television screens.
Mr Gray added: "I very much hope that there may be people from across Britain who would want to make a contribution towards such costs so that the efforts of the people of Wootton Bassett can be recognised in a fitting way."
The first repatriation service took place in the town in April 2007 when the bodies of military personnel began arriving at the nearby RAF base at Lyneham.
Since then thousands of people have turned out to pay their respects to other servicemen killed in conflicts in Iraq and Afghanistan.
The last repatriation took place in August as RAF Lyneham ceased to operate as a flying base on 30 September, and is due to close on 31 December 2012. UK military repatriations have now been relocated to RAF Brize Norton in Oxfordshire.
Wootton Bassett Town Council has confirmed that any surplus money raised through donations to the royal charter celebrations will be donated to various forces charities.