Somerset air crew honoured for tropical cyclone rescue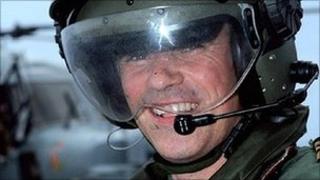 A Somerset air crew has been given a bravery award for saving a ship's crew during a tropical cyclone.
In May the crew of HMS Chatham's Lynx Helicopter, based at Yeovilton, rescued 23 seamen from a stricken merchant ship in the Indian Ocean.
The Shipwrecked Mariners' Society's Skill and Gallantry Awards recognise people who risk their lives in dangerous sea rescues.
The crew will receive its award from The Princess Royal on Tuesday.
On 21 May the crew of HMS Chatham's Lynx Helicopter, from 815 Squadron, received the distress call from the ship MV Dubai Moon.
It was unable to manoeuvre and at risk of sinking along with its 23 crew after it became caught in a tropical cyclone.
Despite the dangerous conditions, Flight Commander Lieutenant Commander Peter Higgins AFC and his crew fought to maintain a "steady hover" and managed to winch the men from the "oily rolling decks" to safety over three hours.
During the rescue a newly qualified winchman, Air Engineering Technician Richard Wilmot, became violently ill.
Lieutenant Commander Graham Chesterman, who was visiting HMS Chatham to carry out an aviation audit, was asked to take over.
Despite having not flown for 15 years, the lieutenant managed to conduct "22 difficult and physically exhausting transfers".
For his bravery, Lieutenant Chesterman has been awarded an individual commendation and the crew has been awarded The Edward and Maisie Lewis Award for outstanding air/sea rescue.
Commodore Malcolm Williams, chief executive of the Shipwrecked Mariners, said the rescue "demonstrated all that is best in the seafaring tradition".
"Lieutenant Commander Graham Chesterman and the crew of HMS Chattam's Lynx helicopter showed outstanding professionalism, superb teamwork and courage in rescuing the crew of the MV Dubai Moon," he said.