David Hempleman-Adams wins America's Challenge balloon race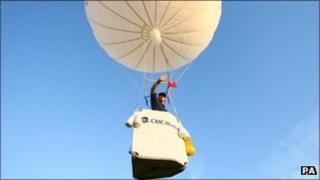 Adventurer David Hempleman-Adams, from Wiltshire, has won a distance ballooning race in the US.
He and co-pilot Jon Mason finished ahead of the pack after taking off from Albuquerque, New Mexico, in the 16th America's Challenge Gas Balloon Race.
The pair touched down at 20:30 MDT (03:30 BST) north-west of Minot, North Dakota, near the Canadian border.
The win is the second gas balloon success for the pair who won the Gordon Bennett race in 2008.
The team which flies the furthest wins the winner of the America's Challenge.
Organisers said unofficial results showed that Hempleman-Adams and Mason flew 974 miles (1,568km) over three days.
Hempleman-Adams said he was delighted to have won from the same launch point as three years ago.
"We have wanted to win this balloon race since our Gordon Bennett win here in 2008," he said.
"We were up against great competition from the top American Gas balloonists and the top German team with Wilhem Eimers, which has made it a really exciting race and the last 24 hours have been very tense.
"We are absolutely over the moon."