Wiltshire Council to axe chief executive in 'radical' restructure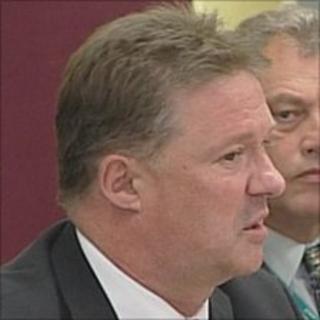 Wiltshire Council has said it will "delete" the post of chief executive in a plan to reduce management costs.
A corporate director post will also be shed and the three remaining directors will share leadership of the council in place of the chief executive.
A council spokesperson said the "radical senior management restructure" would save the authority £1.4m over the next four years.
The new leadership team is expected to be in place by November.
In a statement, Wiltshire Council said any recommendation "concerning the dismissal of the chief executive on the grounds of redundancy is subject to confirmation by council".
But "as part of the agreed process the chief executive and corporate directors will have the option of applying for voluntary redundancy".
Andrew Kerr, the current chief executive who helped the authority save more than £18m last year, has only been in the job for 18 months.
'Radical authority'
His appointment was seen as critical when he took charge months after the creation of the West's biggest local authority.
Wiltshire Council replaced a county council and four district councils and has an annual budget of more than £800m.
But earlier this year, his £183,000 salary was criticised when the Conservative-led administration axed 220 managers, saving the authority £8m.
Council leader Jane Scott said the decision "demonstrates that we will not avoid making tough decisions if we believe that they are right for our communities".
She added: "We will now focus on delivering our business plan and what is needed for the people of Wiltshire.
"We will always do what we believe is right for Wiltshire's communities and if it means being a radical local authority which leads the way, then that is what we will be."